Friday December 13th 5:00pm - Carla Diana & Emilie Baltz Present: LICKESTRA - A Musical Licking Performance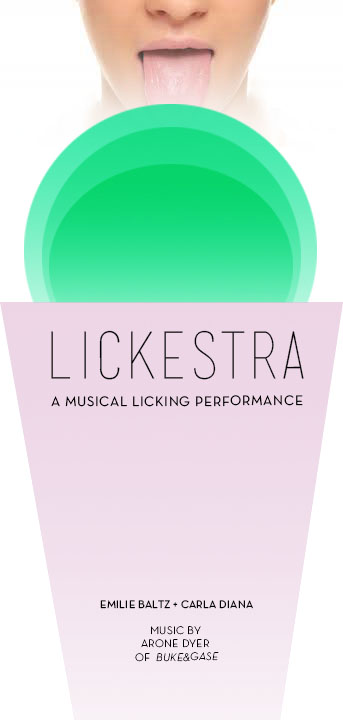 Friday December 13th - 5:00pm
Visible Futures Lab
132 West 21st Street, 7th Floor
In culmination of their 14-week residency with the Visible Futures Lab, Carla Diana and Emilie Baltz present: Lickestra
Lickestra is a musical licking performance at the intersection of food design and smart objects.
Playing with the experience from tongue to taste, the performance presents a series of conductive ice creams that trigger various baselines and tones when licked.
From improvisation to orchestration, eater becomes performer as the primitive act of licking reaches beyond flavor perception to become an instrument for play.
Lickestra lasts until all the ice cream is licked.
Music is by Arone Dyer, of Buke and Gase.
Carla Diana is a designer, author and artist who enjoys living as close to the near future as possible. In her studio she works on future-specting projects mixing robotics and sensor technologies with everyday life to create smart objects that can charm and surprise. She is a Fellow at the innovation design firm Smart Design where she overseas the Smart Interaction Lab. Carla has taught and lectured internationally, including a year as visiting faculty at the Georgia Institute of Technology, where she was the creative director for the iconic humanoid robot, Simon.  Her recent article, "Talking, Walking Objects", appeared on the cover of the New York Times Sunday Review this January, and is a good representation of her view of our robotic future. She is currently working on a children's book about the future of 3D printing.
Emilie Lucie Baltz explores taste. She believes food to be more than flavor and works to create experiences at the intersection of design, photography, performance and curation that provoke the 5 senses. She is a member of the prestigious culinary association Les Dames d'Escoffier. Emilie is the author of the award-winning "L.O.V.E FOODBOOK", recipient of Best First Cookbook in the World at the Prix Gourmand held annually in the Louvre, Paris; as well as the nationally featured cookbook, "Junk Foodie: 51 Delicious Recipes for the Lowbrow Gourmand". She has lectured internationally on the power food to transform the lives of creators and consumers and presently working on a third book about American eating habits.
Both women are founding faculty members of the SVA Products of Design program.